Suicide: Auditing a complex topic
I have worked for the Office of the Auditor-General for more than 11 years. In that time, I've audited a wide range of organisations, programmes, and services.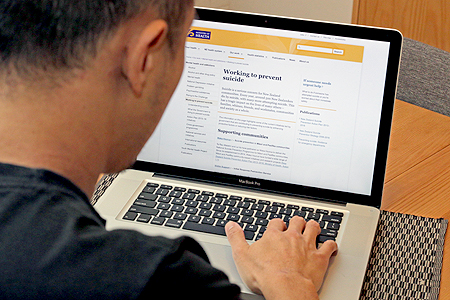 These include Pharmac, the Treasury, the Primary Health Care Strategy, the New Zealand Defence Force, collecting customs revenue, the Sustainable Development Programme of Action, Whānau Ora, scheduled health services, and whether New Zealand has data to better understand our ageing population.
Of all the work that I've done, the performance audit on collecting and using information on suicide has been one of the most difficult. I could talk to you about my personal experience of suicide – but I won't, for a number of reasons. The main one is this: to do justice to the audit, I had to (as much as possible) look somewhat dispassionately at an issue that everyone knows is desperately tragic.
Putting aside my own understanding of the pain suicide inflicts on society wasn't the only challenging thing about this audit. Now you're going to see me approach this as a performance auditor. This report was difficult mostly because there is not necessarily a clear cause-and-effect line between actions taken to prevent suicide and changes in the suicide rate. We often come across the "attribution problem" in our work, but it was more of a problem for this audit than others. What this means for us, as auditors, is that we need to be reasonable about what we expect of government agencies involved in suicide prevention and how we assess their work.
Suicide prevention is a complex topic. The first New Zealand report on mental health and suicide prevention (for youth) was published in 1994. In 1996, the United Nations published guidelines to help countries formulate and implement national suicide prevention strategies. The guidelines resulted from a meeting of experts that took place in Canada.
In 2012, the World Health Organisation published Public health action for the prevention of suicide, which provided a resource to help governments develop and implement strategies for the prevention of suicide as well as to help those with strategies in place. It drew on the evidence base built in the 15 years since the United Nations' guidelines were released. In 2014, the WHO published its First World Suicide Report. Globally, the WHO considers that the availability and quality of data on suicide is poor. New Zealand is one of 60 member countries that the WHO considers has good quality registration data that can be used to estimate suicide rates and one of 28 countries that report having a national suicide prevention strategy. However, there is not yet a theory, model, or explanation of suicide that can produce a risk assessment tool that – on its own – can predict whether someone will deliberately end their life.
For any audit, we carefully choose where to put our focus. For this audit, we decided to look into how information is collected and used to provide a foundation for suicide prevention work. We consider that good information leads to better decision-making and – eventually – better results for people. We focused our audit on the government agencies that were relevant to our focus on suicide information. We plan to publish our report before the end of the year – and I'm looking forward to working on a topic that's less personally demanding.
Update (16 June 2016): You can now read our report Collecting and using information about suicide on our website.