John Buller Hicks Saxon
From auditor to soldier.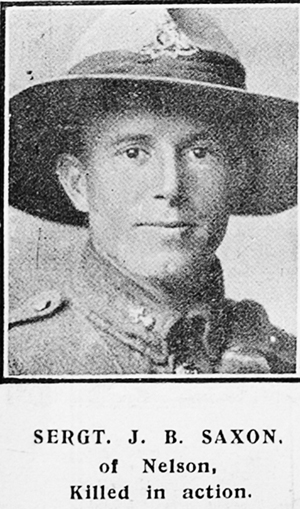 John Buller Hicks Saxon was from Nelson. He joined the Audit Department in March 1907. By the outbreak of WW1, John had attained the position of Audit Examiner, Class VII.
John enlisted with the New Zealand Expeditionary Force on 8 August 1914, aged 24.
His first overseas posting was as part of the Samoan Advance Party. There was a requirement that all troops had to make out a will before being posted overseas. John left a detailed will, which he signed on 14 August 1914. In this will, he:
left items of furniture, pictures, and photographs to his sisters;
the sum of ten pounds was to be used to buy his fiancé, Nita Clarke, a brooch; and
forgave one sister a debt of money that she owed him.
The rest of his estate was to be left to his mother. On his mother's death, one half of his estate was to be left to Nita Clarke and the other half to be shared between his sisters and brother. Many of the wills made by soldiers left estates to parents. John's will reflects a very thoughtful approach.
John kept a diary that covers several months of his time in Samoa. The diary records endless days of drill, the occasional cricket match, and not much else. On one occasion, he woke up with a very sore head because his rifle, stored next to his bed, had fallen on him during the night.
Several diary references reflect his desire to receive more mail. One entry is a note to "N", in which he describes how he misses her and his hopes that she still loves him. Other entries record how lonely he was.
On his return to New Zealand in March 1915, John sought and obtained a discharge from the New Zealand Expeditionary Force. The discharge certificate describes his character as "Very Good." However, he was soon back with the New Zealand Expeditionary Force and was in Egypt in July 1915, where the New Zealand troops underwent extensive training.
He was sent to the Dardanelles on 21 September 1915, landing at ANZAC Cove. John was with the 6th Howitzer Battery, 4th Brigade. The complete Battery, together with the guns, did not land at ANZAC Cove until 12 October. Three days later, they were in action.
The New Zealand artillery batteries were evacuated from ANZAC Cove, beginning on the night of 11 December 1915. The New Zealanders were determined to leave none of their guns behind, even though it meant manhandling the heavy guns across trenches and broken ground and down to the beach. All this had to be carried out in silence to avoid the enemy knowing they were retreating. John was probably involved with this work.
The evacuation was completed by 19 December. John arrived back in Egypt on 22 December 1915 and went to camp at Moascar.
In February 1916, he was appointed to the temporary rank of Battery Quartermaster Sergeant for the 6th Battery. He relinquished this rank and was sent to France with the 6th Battery. Having arrived in Marseilles, a 50-hour train journey to the north of France followed. The New Zealand Division was based at the town of Armentières.
There was some reorganisation of the artillery brigades and the 6th Howitzer Battery was attached to the 2nd Artillery Brigade.
The New Zealand Division was part of a major British offensive to break through the German trenches and bring the war to an early end – the Battle of the Somme. New Zealand's involvement began on 12 September 1916, when the artillery went into action. According to author J.R. Byrne:
The bombardment opened on the morning of Tuesday, September 12th, all along the line from Thiepval to Ginchy, and continued steadily for three days. The 18-prs. [pounders] were employed chiefly in cutting wire, searching communication trenches etc., while the 4.5in. howitzer batteries which were not engaged on counter-battery work directed their fire on enemy trenches, observation posts, and machine-gun emplacements. Each battery was given its programme of shooting; but its activities did not end there. Observing officers were constantly on the look-out for suitable targets, and any sign of life or movement in the trenches or on the roads behind the enemy line was instantly the target for several batteries. The whole enemy system of trenches for a great depth was battered with high explosive and sprayed with shrapnel, and any belts of wire entanglements that could be observed at all were methodically wiped out; roads and communications were shelled by day, and even more vigorously by night, when they carried most traffic.
Three days after the start of the bombardment, the infantry attacked the German trenches. As the attack advanced, the gun batteries were required to move their guns forward. They came under heavy enemy fire. John was killed on 17 September 1916, in fighting near the town of Flers.
He was posthumously awarded the 1914-15 Star, the British War Medal, and the Victory Medal.
John's war records show that he was originally buried near the town of Montauban in France. A further document, dated June 1949, states that his body was exhumed "with all reverence" and buried "in an isolated grave", at the British war cemetery at Flatiron Copse Cemetery, Mametz, Somme, France.
The bodies of many of those killed at the Somme were never recovered. The Somme battlefield was a nightmare of mud, huge craters, barbed wire (that in places was 40 metres wide), heavy artillery, and poisonous gas. More than half of the New Zealanders killed at the Somme have no known grave.